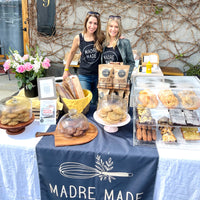 WHO WE ARE
Hello! We are Mary + Alexis, the baking duo that makes up Madre Made Bake Co. We are a cottage kitchen licensed micro-bakery, based in Sierra Madre, CA. We started Madre Made in 2020 at the height of the pandemic in order to spread a little cheer during a difficult time. We fell in love with the business and haven't sat down since!
We offer artisan sourdough baked goods using fresh-milled and highly nutritrious whole grain flour, as well as delectable freshed baked treats made with care and love. We are known for our ultra flaky, buttery scones, perfectly cripsy-on-the-edges-soft-in-the-middle cookies, soft, pillowy sourdough cinnamon rolls, and gluten-free almond flour brownies (aka best brownie ever). But we also love R&D and we are constantly evolving our menu and offering new items weekly!
How to find us
RT ROGERS BREW CO. WEEKLY THURSDAY POP-UP
Every Thursday evening, from 5pm-8pm, we set up a pop-up bake sale in the adorable courtyard of RT Rogers, at 38 E. Montecito. This spot is truly a cozy Sierra Madre gem! You are welcome to stop by and grab some goodies to go or stay for Trivia night and a delicious beer (brewed on site!)!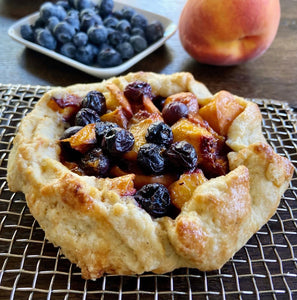 HUARACHE FARMS CSA BOX
We are honored that our baked goods are included in Huarache Farm's weekly CSA box! Our items vary week to week depending on what is seasonal, but often include freshly milled artisan sourdough bread, English muffins, scones, and cookies. Order here: huarachefarms.com.
SPECIAL ORDERS/CORPORATE CLIENTS
We currently provide baked goods for the set of a major television show in addition to other corporate clients. We are available for for your office party needs, client gifts, commercial shoots, tv sets, etc! In addition, we offer special order cookies for at home customers. Email us at madremadebakeco.com with your inquiry.
OUR FRIENDS + PHILANTHROPY
HUARACHE FARMS
Huarache Farms is a local Sierra Madre farm that utilizes hydroponics, water gardens, wicking soil beds, and food forestry to grow food on a sustainable, backyard scale. Madre Made is included in their weekly CSA box and we include their herbs and produce in as many of our products as possible.
NO KID HUNGRY
No child should go hungry in America. But in the wake of the coronavirus pandemic, 1 in 4 kids could face hunger. No Kid Hungry is working to end childhood hunger by helping launch and improve programs that give all kids the healthy food they need to thrive. This is a problem we know how to solve. No Kid Hungry is a campaign of Share Our Strength, an organization committed to ending hunger and poverty.
Madre Made ran a 2-year campaign with No Kid Hungry, donating 5% of our revenue and was featured in their 2020 Annual Report for our efforts!
SIERRA MADRE COMMUNITY NURSERY SCHOOL
Sierra Madre Community Nursery School is a play-based, NAEYC accredited, parent participation school that offers a high quality educational experience from preschool through kindergarten in a natural setting. Children develop social and emotional skills through developmentally play guided by teachers and parents working in the classroom. Madre Made has also made significant donations from revenue to this school.
ALLERGY WARNING
We are not an allergy-free bakery. All of our baked goods are prepared in the same workspace and kitchen. While we try our absolute best to ensure that there is no cross contamination of ingredients, there is a chance of this. Some of our items contain almond extract, nuts, or may contain ingredients that have been processed or prepared in a kitchen with the presence of nuts and or their derivatives.
Persons with severe nut allergies may want to refrain from enjoying our treats.
We welcome questions about specific products and ingredients.
Please ask our staff or send us a message.